Hi everyone, this week at
Stamptacular Challenge 18
we have a theme of "Childs Play". This is a really fun theme and the rest of the DT have made some awesome creations for children. This week we are also sponsored by
Paper Makeup Stamps
and they have put up some fabulous stamps as a prize for one lucky winner!
For my DT project I made a money box, well it was actually a very plain money tin and I just decorated it! I used a tilda image that I received from a blog bud and she is coloured with distress inks. I must apologize for the awful photo, the sun was really bright and I just couldn't get a decent shot.
This is the money box from the other side. The papers are from my stash, I used my MS doily lace punch for the borders, the flowers are primas, I used my leone em punch to make the branches and the label is computer generated using the font lucinda handwriting. I also have a trim down the sides using some american crafts ribbon, but I have just realized that it isn't showing in any of my piccies!!!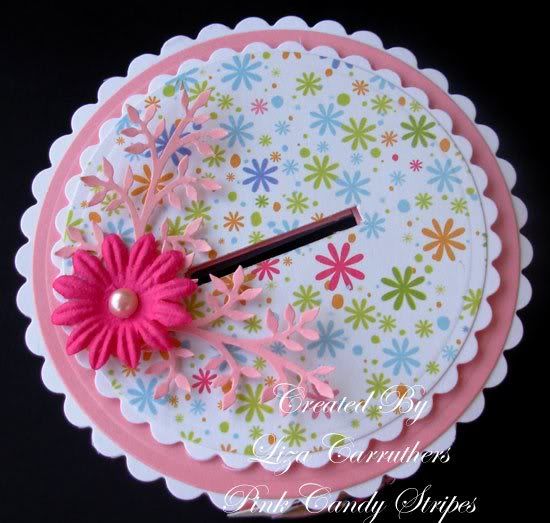 Finally, a view of the top. Just before I assembled everything, I lined up all of the layers and cut a slot with my craft knife, so the money can be popped inside.
Supplies
Card/Paper: Pink and white card, paper from stash
Stamps: Magnolia
Colouring: Distress inks - tattered rose, vintage photo, worn lipstick, peeled paint, faded jeans, walnut stain, black soot, spiced marmalade. Inksenntials pen for highlights
Embellishments: Primas, pearls, american crafts ribbon
Tools: cuttlebug, nesties, MS doily lace punch, leone em branch punch, craft knife
Thanks for looking x